OOTP 12 Simulation: Tribe Fall Short of AL Central
Once again, The Tribe Daily is partaking in a Out of the Park Baseball Simulation.. Read On!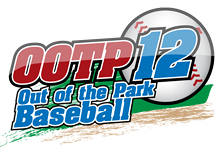 The game is the same, it always is. But the OOTP people are hard at work always making upgrades and tweaks to make it even better year after year. Go ahead and read my post from last year if you wanna learn more. It's a great game and a lot of fun if you are into the nuts and bolts of baseball. If you like creating franchises on MLB The Show or any of those games for PS3 or XBOX, and you like controlling your team and all that stuff, OOTP is far and away a much better route for that type of stuff.
And again, if you want team logos and player headshots... Visit
Padresfan's Mods
, where you can download and install logos and all that.
Again, not getting paid for this and it isn't so much an ad that it is cross promotion with OOTP and the BBA. I don't have annoying advertisements on the site and have constantly refused that type of stuff, especially as of late. I really do endorse this game and encourage you, if you are a big time baseball fan and like this type of stuff, to get the game. Also, because this is an Indians blog, I've once again included most of the info from the Indians season in my simulation, just to see how things played out.
Again, a big spreadsheet where you can view offensive and pitching statistics from the 2011 season will be available lower in the post.
FINAL STANDINGS
EAST
Team | Record | GB
New York Yankees 97-65 | -
Boston Red Sox 95-67 | 2
Baltimore Orioles 76-86 | 21
Toronto Blue Jays 75-87 | 22
Tampa Bay Rays 70-92 | 27
CENTRAL
Team | Record | GB
Chicago White Sox 84-78 |
Cleveland Indians 82-80 | 2
Minnesota Twins 77-85 | 7
Detroit Tigers 77-85 | 7
Kansas City Royals 67-95 | 17
WEST
Team | Record | GB
Texas Rangers 100-62 | -
Oakland Athletics 86-76 | 14
Seattle Mariners 77-85 | 23
Los Angeles Angels 70-92 | 30
WILD CARD
Team | Record | GB
Boston Red Sox 95-67 | -
Oakland Athletics 86-76 | 9
Cleveland Indians 82-80 | 13
EAST
Team | Record | GB
Atlanta Braves 96-66 | -
New York Mets 90-72 | 6
Florida Marlins 89-73 | 7
Philadelphia Phillies 82-80 | 14
Washington Nationals 58-104 | 38
CENTRAL
Team | Record | GB
Cincinnati Reds 92-70 | -
St. Louis Cardinals 87-75 | 5
Milwaukee Brewers 79-83 | 13
Pittsburgh Pirates 71-91 | 21
Chicago Cubs 71-91 | 21
Houston Astros 70-92 | 22
WEST
Team | Record | GB
Colorado Rockies 98-64 | -
San Francisco Giants 87-75 | 5
San Diego Padres 85-77 | 13
Los Angeles Dodgers 85-77 | 13
Arizona Diamondbacks 57-105 | 41
WILD CARD
Team | Record | GB
New York Mets 90-72 | -
Florida Marlins 89-73 | 1
St. Louis Cardinals 87-75 | 3
San Francisco Giants 87-75 | 3
League Division Series
ALDS - Texas over Boston 3-1
ALDS - New York over Chicago 3-1
NLDS - New York over Colorado 3-2
NLDS - Cincinnati over Atlanta 3-1
League Championship Series
ALCS: New York over Texas 4-0
NLCS: New York over Cincinnati 4-2
World Series
Yankees over Mets: 4-3
P: Phil Coke, DET
C: Carlos Santana, CLE
1B: Adrian Gonzalez, BOS
2B: Aaron Hill, TOR
3B: Evan Longoria, TB
SS: Alcides Escobar, KC
LF: Brett Gardner, NYY
CF: Curtis Granderson, NYY
RF: Nick Markakis, BAL
P: Shaun Marcum, MIL
C: Buster Posey, SF
1B: Albert Pujols, STL
2B: Brandon Phillips, CIN
3B: Ryan Zimmerman, WAS
SS: Troy Tulowitzki, COL
LF: Logan Morrison, FL
CF: Colby Rasmus, STL
RF: Mike Stanton, FL
Rookie of the Year
AL: Mike Moustakas, 3B KC
NL: Freddie Freeman, 1B ATL
Cy Young
AL: Jon Lester, BOS
NL: Huston Street, COL
MVP
AL: Adrian Gonzalez, 1B BOS
NL: Troy Tulowitzki, SS COL
SUMMARY
This was interesting.. I don't know if it was in the game last year, but some of the "extras" in the game. Like When Clay Buchholz was injured, it says he had a thumb contusion from a fight during a poker game. And also, it had a news release that Angels Artie Moreno died. That's kind of weird, but also just an interesting add-in to the game.
The Central actually finished in a way the people think it will finish this year. Clustered together. Not quite in the order people were thinking, but look at the order right now.
I'm disappointed it ended in a NY-NY final. Bleck and Blah.
CLEVELAND 2011 SEASON
All-Stars: Justin Masterson, Carlos Santana
Travis Buck won the International League Hitter of the Year Award and Jeanmar Gomez won the IL Pitcher Award. and as you saw, Carlos Santana took home the AL Gold Glove award for Catcher.
Like last year, the Indians once again made some additions. Christian Guzman, David Eckstein, Gary Sheffield, Luis Castillo, Jeff Salazar, and Evan Meek.
Justin Masterson was awesome.
The Indians were in the race. After a bad start, they made their run and by June 24th were at .500. They then fluctuated and by August 12th got within one game. A few weeks later on the 28th they were in a tie with the White Sox. That was as close as they would get though. They finished 82-80 and two games back of first. It was a valiant effort.
The Wild Card was all Bostons as the AL East crushed everyone into an oblivion.
Indians were 47-34 at home and 34-46 on the road. 7th in the AL in runs with 762 and 10th in homers with 146. Pitching in the AL was 9th best with a 4.40 ERA and 13th best in strikeouts with 1039 (second to last). Justin Masterson finished 3rd in ERA and winning percentage.
A few injuries of note...
April 25 - Hafner torn abdominal, missed 3-4 months
April 25 - A Cabrera fractured ulna missed 5 weeks
April 26 - O Cabrera fractured rib missed 5 weeks
July 12th - A Cabrera sprained thumb missed 3 weeks
July 24th - David Eckstein hamstring strain missed 4 weeks
Overall interesting. Didn't win it like last year, but they were in the hunt. And were in the real hunt, so that's all that counts.
Screenshots