Back in the saddle, sorta...
Whoa, this place is dusty. It's still here, so that's a good thing. One thing that's still standing!
Whoa what's this? A post on The Tribe Daily?
Yup!
If you do follow me on Twitter, there is also a chance you missed it.
The last post on this blog was December 8th, which feels like a year ago. That isn't a silly "but it was last year" joke. It really has felt like a full year ago. My life has changed since we last spoke, as on that same day (and mostly into the next morning) my house burned down.
When I say burned down, I mean, caught on fire, and partially burned down. The garage for all purposes is not there, at least the roof and all the insides. Most of the rest of the house suffered internal damage beyond repair, with only one room looking as if nothing happened. Everything else, burned, gone, whatever.
So that's where I've been this past month. I didn't ditch the site and if anything, a rather intriguing offseason (of not so much the moves that happened, but didn't happen as well as all the other cases of identity crisis) has gone un-touched by me on this space and TCF.
Which saddens me as it is gone, just as my hat collection is.
Fear not though, as I'm getting on my feet and my family has started to rebuild our lives (our house is a different story as we still go through that). Right now I still don't have a computer at home that I can use, so my work is limited to the 10-12 hours I spend on campus, but homework and work take priority over anything right now.
I'll be back soon though, in full force.
For now, I wanted to discuss a few of the events I haven't had the proper time/space to dive into.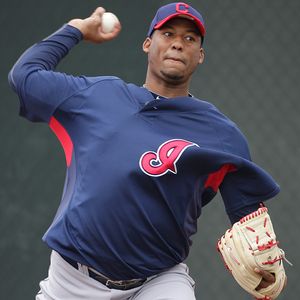 Photo - AP, via ESPN.com
The first is this
Fausto Carmona
thing. I kind of wrote
a satirical piece on TCF's wire
the other day about it. You can read that if you wish. I think Paulie C., as he always does, kind of
hit the nail on the head
for the most part though. It's just odd, but it happens and it happened quite frequently in Carmona's time. Just look at the case of Wally Bryan/Jose Ozoria with the Indians a few years back. Think of all the guys who didn't make it to the big leagues, who did do this thing.
It was commonplace for awhile, but teams and the MLB have started cracking down, becoming better policemen for this issue and taking more caution in terms of signing these foreign players and dealing with scouts/agents/who have you.
What I find interesting though is how the Indians have not completely cut ties yet with the man who I have no idea what to call. They acquired Kevin Slowey, which leads you to believe they are either A)Preparing to not have him because they probably won't have him or B)Preparing for the possibility of not having him and just being overly cautious. You really cannot know or tell given the situation.
My question though goes a little deeper. It goes back into the psyche of Carmona/Heredia... Was this not the same man who had some issues just years ago that forced him into seeing the team shrink? This was the same pitcher that essentially had to be rebuilt because his confidence and his personality were so shaken he couldn't throw a strike.
Does that problem go into this? This issue? The fact that Carmona has been living a life that, essentially was his, but it wasn't? Carmona isn't Carmona and as Paul put it in his piece, it was his talent, but without the name Fausto Carmona, there is no Fausto Carmona. Without the age of Fausto Carmona, there is no Fausto Carmona.
The pitching legend of 2007 and the midges never happens.
Perhaps 2007 doesn't happen at all.
Maybe Carmona's problems are Heredia's solution? Maybe now that Fausto Carmona can now be Roberto Hernandez Heredia, maybe 2007 Fausto Carmona can become 2012 or 2013 Roberto Hernandez Heredia.
Am I saying he's fixed or that he's going to come back and be 2007 Carmona? No, because that would be crazy.
But maybe this is so messed up and Carmona's mind has been so shattered, that maybe if he can get everything with his identity squared away and be allowed to pitch... Maybe just maybe he can just tap into what he has back there. So he's really 31? Who cares, he's shown success at the major league level. Maybe Roberto Hernandez Heredia could be the best offseason acquisition the Indians could have made. Maybe he will get cut, the Indians will save some cash (and go get a bat) and he'll drift away into obscurity.
Who really knows at this juncture. I hope for the Indians and Carmona's sake that this story is far from over. Maybe Carmona doesn't deserve a second chance, but perhaps Heredia deserves just one.Who's to say we wouldn't have done the same thing if we were either in his position or at that stage of our lives.
---
I sent my Twitter feed into an uproar last night (which was a mistake as I was on my phone) when I went on a sectioned rant about Prince Fielder. I know fans are upset that the Tigers got him, heck I'm not elated either.
But the thing that probably set me off was reading some Indians fans dooming and glooming and going on the typical "Dolan cheap" string. I have tried to combat this before and I had reached a point where I would just ignore the asinine people who'd bring it up.
But it got to me last night and I couldn't hold back. For people to actually get upset with THE INDIANS because THE TIGERS signed someone is just ridiculous.
I understand the gripe from some people, about the complacency in regards to adding a first baseman. The rational protest to Dolan is Cheap or whatever it is people want to bring up. I get that and I understand it. I don't agree with it, but I get it.
That isn't what set me off, but it is the angle some people came at me with in response and I appreciate that view point, and it brings up some logical ideas that are worth exploring.
The first is, why aren't the Indians doing anything? I mean it is almost the end of January. But I have a question for you there... Why did it take Prince Fielder so long to sign? And it seems as if it took a Victor Martinez injury to push the Tigers to sign him. The guy played his cards right. Who knows, if he would have signed immediately after Pujols, he might have not got the deal he got with the Tigers, because Detroit did not have the need for him.
It mystified me as to why Prince was still out on the market as he was the top guy at first. Was there simply no one willing to fork over the dough? Perhaps, considering the biggest contenders were Seattle, Washington and until they netted Yu Davis, Texas. Washington and Seattle? Oh man, no wonder he didn't sign quickly. It turns out holding out for what he did was the best move he could have made, as the Tigers need created some extra bidding and soon enough, Prince has some money to match his name.
So that in a rather large nutshell is why the Indians haven't made a move in the first base market.
I know what you are saying, but you just got upset at the people that thought the Indians had a chance at signing Prince Fielder... Right, but in order for the Indians to make a move, they essentially needed the Prince to fall. After Prince goes, everyone else can set their market. Some will not wait, but if you are going to go after a Kotchman, you probably have to wait until he's one of the best people available. Kotchman isn't going to decide until he knows who definitely has interest and say someone lost out on Prince wanted the next option on the list. They might pay a little more.
They may not, which would go in the Indians favor as he'd come cheaper, which is why the Indians have held ground.
If Kotchman doesn't come to fruition they can then go to their next option, who is doing the same thing Kotchman is doing, wait for the domino above him to fall.
So, again, I can see and understand some viewpoints being brought. But there is some rationale that goes deeper into simply just "AHHH THEY SIGNED PRINCE, WHAT THE HELL ARE WE... NOT DOING?!"
I think things are a little magnified because it was Detroit, who really is this team's biggest competition (or is it, the Indians are their biggest competition?) in terms of the division. It might have been Castrovince (and I believe it was) or it could have been Bastian, but someone said that the Tigers getting Prince wasn't a move to win the division, the Tigers got Prince to win the World Series.
They already won the division without him, they know they can do that.
Did the Victor injury get them a little scared about their offense? You betcha, because that offense is what won them division, that and their MVP/Cy Young pitcher.
But I ask you this now.. What if that guy goes down? What do they have? A stellar offense? Last time I checked, it takes a lot more than a few mashers like Miggy and Prince to win a title. It may get you to the postseason, and it may get you deep if they both get hot. But you need pitching and that is one area that Detroit is still lacking in.
Of course this move effects the Indians, but do not think it is the dagger. There is more to this story because the book hasn't even been opened, let alone written. The Tigers have not won any division, you have not witnessed your team lose anything yet.
How can I say that and be positive? It's baseball damnit, that's how. If my heart gets broken, oh well, it won't be the first time and it won't be the last. But to abandon all hope before your ship has even been struck is senseless. This team can put something together and the offseason is not even over.
---
Quick Hits
- Back to Carmona: Manny Acta came out and said that
Fausto is important to the Indians rotation
. Well ya... Whether he bombs or not, the chance of him not bombing is there and if he doesn't bomb, that's another arm to count on. The Indians do want Carmona as they are trying to get him there, but the Slowey move does tell us, they are ready for him not to be around if it is the case.
- The added layer that Carmona was paying the real Fausto Carmona for his identity seems to make me think even more that this has been a big notch in that whole Carmona psyche thing. Maybe I'm pulling wildly at straws here with it, maybe I'm not...
- Slowey cost the Tribe My Favorite (Zach) Putnam, which is sad because he A) Went to Michigan and B) Is awesome. But he'll go on and have some success if given the chance to be a middle guy in the pen, I can feel that. Its a shame the Indians lost a nice portion of depth in young bullpen arms (Josh Judy, Cory Burns, Putnam) and all they have is Slowey and Aaron Cunningham, but again, the season hasn't been played yet.
- JULIO!!!! Julio Lugo was signed to a minor league deal and he is added to the group of Jeremy Accardo, Fred Lewis, Andy LaRoche, Jose Lopez, blah blah blah. I like the Lewis move, and the Lugo one is interesting. Really interesting because the Blue Jays signed Omar Vizquel to a minor league deal.
I know that will perplex some people, considering they are kind of in the same position in terms of being infielders. But Omar tweeted that the Indians didn't have a spot and that tells you all you need to know. The Indians cannot sign a guy like Omar Vizquel and expect to cut him. The Blue Jays? They can do it, they can sign Vizquel to a minor league deal and if he doesn't make the team, he doesn't make the team. But if he doesn't make the Cleveland Indians? The world implodes.
Julio Lugo? Eh, cool. Of all these Minor League FAs, I like Freddie Lewis the best.
- Excited for Tribe on Tour as I'll be partaking once again this year at Summit Mall in Fairlawn. I'm really excited for this year's batch. As fun as it was to meet Choo, I really am looking forward to some of these personalities that are going to be there. Vinnie Pestano alone for me is going to be fun.