2013 Spring Training Primer: Part 2
Here is the second part of the annual Spring Training Primer. Enjoy!
This was finalized and ready to go. I figured I had avoided the eventual last minute minor league free agent or kind of surprise signing that the Indians usually make that impacts how the primer looks, what the projections say and what I think.
Then the Indians did it to me again and did it in a way I never thought possible. I'm not going to complain about them doing it though, but I am going to tell you right now that everything has changed with
Michael Bourn
on board. I've gone through and redone the second half of this, and about half of what you read yesterday, you might as well forget a lot of it.
With that in mind, here's the second, and revised Part 2 of the Spring Training Primer.
Five Burning Questions Headed into Spring Training
1. Where does Jason Giambi fit?
Before, Saturday this question was "Will the Indians add someone to the DH mix?" Before Monday, it was "How does Jason Giambi impact the DH battle?" Now, you see what it actually is because the signing of Michael Bourn really hurts Giambi's status. Thankfully I never answered the first question, because it would have been pointless, but I did answer the second. Giambi is coming off three seasons in Colorado where he played some first, did the DH thing when the team was in Interleague play, but mostly was a pinch hitter. Now he thought he'd be coming into a situation where he could compete for that opportunity, but now it seems like he may be competing for that familiar role he had in Colorado. The difference is that there is no pitcher spot to hit for and with Bourn in the mix, someone is going to be a taking up a lot of DH time and it probably won't be Giambi.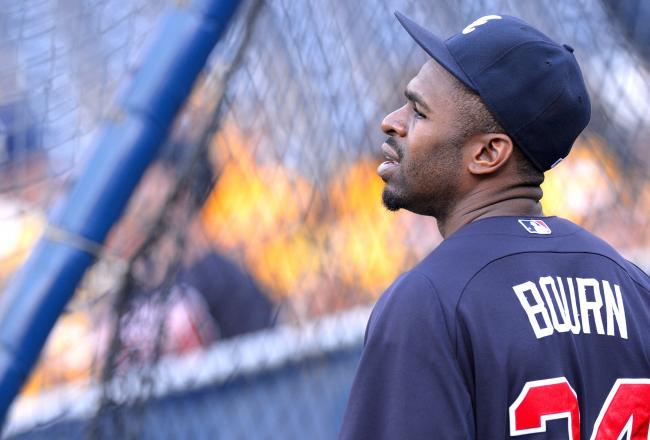 Photo - Getty Images via Bleacher Report
2. What's this outfield actually look like?
I just erased this question from what does "center and left look like" to what it is now. Because as Michael Bourn comes in, the outfield changes, first base changes, and the DH battle is probably over, as I kind of alluded to in the first question. I won't spoil the projection I have for later, but let's put it this way. I think Michael Bourn is probably the best guy for center and that's where he's going to end up. He's just better right now and I think since Brantley is the flexible one, having been able to play left, it makes a lot of sense to do it that way. Obviously, you can't play Swisher, Bourn, Brantley, and Stubbs in three spots, so someone has to go. Whether that's looking to trade
Drew Stubbs
or move Swisher to first is definitely a question that needs answered later on. It is nice to have that extra chip to trade if you need to. The Indians lineup is significantly better and much more of a threat with a speedster like Bourn at the top and I think in the end, the Indians figure something out that logically makes sense and maximizes their talent.
3. How much will Francona's lineup change this spring?
My guess is a lot. As I will get into with the projected batting order, there's a lot that could be done and I can see Francona using this spring to play with different combos, just to see how they look in play. I think the lineup could look completely different than what any one person would have in mind. My projected one could be completely wrong as it is largely based off what the Indians have been doing. But with a new guy in charge and a good chunk of new faces, it could look totally different than what we've come to expect.
4. Is this Dice-K thing for real?
It may be. It depends on what you believe and what you think. I think Matsuzaka has a lot to prove, but with a contract that he would get if he were to make the major leagues, I think the Indians are going to wait regardless. He's on a minor league deal, and unless he comes into the spring and lights it up, they're going to hold back on adding him to the roster. He'd make $1.5 million if he spends the entire year on the 25-man and in terms of the Indians, they're going to make sure that is a well earned $1.5 million. There's also the other side of the coin in that it is easier to give a guy like him the shot at the start of the season rather than later on, because you get to create roster spots and if that guy doesn't work out, you cut bait and go with a young guy. All things to consider.
5. Will the Indians worry about Carlos Santana playing in the WBC?
Should they? I think so. This is very much a guy they are trying to keep fresh and healthy and perhaps would be the main reason in not having a regular designated hitter. If he's off playing meaningful games in the middle of March and playing the entire game, that is a little worrisome. It isn't injuries. Those happen and you can't control it. It's the wear and tear that you have to be a little "hold your breath" on, especially with a catcher like Carlos. I think they are okay with their top two bullpen guys playing for Team USA (a little scary seeing as its two), and Cabrera with the Venezuelan team, but Santana should be the one guy they are going to be a little anxious about.
MLB.com
25 Man Roster Projections
Starting Lineup
C – Carlos Santana
1B –
Nick Swisher
2B –
Jason Kipnis
SS –
Asdrubal Cabrera
3B –
Lonnie Chisenhall
LF –
Michael Brantley
CF – Michael Bourn
RF – Drew Stubbs
DH –
Mark Reynolds
Just as a disclaimer, I am really horrible at this. I've never hit on most of the roster spots that are up for grabs. In fact, I probably have never really been able to get more than two right. Most years I'll hit one. So with that in mind, and with the change that has come into play with Bourn on the roster, I've got a defensive lineup that looks like that. It hurts the chances for a lot of people, because it takes a guaranteed spot away from someone else and it takes one of those extra bench spots away. I think though, Reynolds moving to DH and Swisher to first makes the most sense on the grand scale, but a numbers look says Stubbs sits against right handers. Still, he plays more than not.
Bench
C –
Lou Marson
IF –
Mike Aviles
C/IF/OF –
Yan Gomes
Bench –
Chris McGuiness
Marson and Aviles are in, which really leaves just two spots, not three, up for grabs. I really think that regardless of Bourn signing or not, Gomes had the edge on one of those spots, which means something else somewhere has to give. I think that if anything, Drew Stubbs is the guy who's going to play a lot of the fourth outfielder role, playing a lot of right when the left hander pitches, and being a guy off the bench. Which means Zeke Carrera and
Tim Fedroff
are probably not fighting four the fourth outfield spot, but rather, just a roster spot. That helps the likes of McDade/McGuiness/Giambi.
Starting Rotation
1.
Justin Masterson
2.
Ubaldo Jimenez
3.
Brett Myers
4.
Carlos Carrasco
5.
Zach McAllister
Again, another matter of what I like or what I think should happen versus a matter of what will happen. It remains to be seen with what the Indians do with Carrasco and how much progress he's made. Does he open on the disabled list? Should they do that? Hold him back in Arizona to continue to build up his arm strength and send him on a proper rehab assignment to make sure he's ready to go, and also as a way to limit his innings in the beginning, rather than at the end? I think it is a high probability of that, but we need to first see how he comes into camp and what the Indians plans are for him. If that's the case, the Indians may go with the Kluber/McAllister duo and basically say, "Okay guys, here's your shot, you've got one month" before calling in Carrasco and
Trevor Bauer
. I think Bauer should just get it from the start, provided he does everything right in the Spring, but I think the Indians will hold off and go with McAllister, and at least it isn't a situation where he wouldn't deserve it. Both he and Kluber showed some good stuff at the end of last season and will definitely, at some point, get shots in 2013. The question is, when?
Bullpen
Closer –
Chris Perez
8th Inning –
Vinnie Pestano
Bullpen –
Joe Smith
Bullpen –
Matt Albers
Bullpen –
Bryan Shaw
Bullpen –
Rich Hill
Bullpen –
Nick Hagadone
And then this is where it all goes to the point of, who really knows. In the past, the Indians have always given a bullpen spot to some vet that they bring in. There is a logical line of thinking in that. Early in the season, you may use your pen a lot. Why exhaust your young arms? It's very reasonable to do just that. Here's the thing that throws a little bit of a wrench into this whole ordeal. The Indians best left-hander is Nick Hagadone, and was until the Indians signed Rich Hill at the last minute. Not saying Hill is better, but it looked like Hagadone was a lock. They need some sort of reliable left-hander and for that, I think Hagadone gets a spot. However, I think the Indians also want to get that veteran waste arm onto the roster and also have a second left-hander, which ends up being Rich Hill. I've gone back and forth from a Hagadone-Allen win, to a Hill-Capps win, but have met in the middle with the two left-handers. If anything happens of course to anyone else, Capps or Allen are the first up, Capps more than likely than Allen for the "waste arm" theory. You'll see Allen at some point though, even Hagadone if he doesn't win a spot. Count on it.
Four-Deep Depth Chart
Catcher: Carlos Santana, Lou Marson, Yan Gomes, Omir Santos
Yan Gomes being in the fold is just so much better than the past few years.
Luke Carlin
is nice, but Gomes has hitting potential and his flexibility makes it easy to carry three catchers and also play Santana at DH more without having to worry about losing the DH if Marson were to get hurt and have to exit.
First Base: Mark Reynolds/Nick Swisher, Chris McGuiness, Mike McDade, Matt LaPorta
An interesting look right now. If McGuiness makes the club, he'll be first in line, if not it is McDade chilling in Triple-A (if he doesn't make the team of course). Since he does not have 40-man status, LaPorta is going to have to do a lot of AAAA smashing and hope for some injuries, but with Bourn moving Swisher to first, he's probably really on the outside looking in.
Second Base: Jason Kipnis, Mike Aviles, Cord Phelps, Nate Spears
Second is pretty solid with Aviles now backing up that position to. A lot of people focus on how it will help Cabrera, but I'd imagine it also helps Kipnis as Aviles is going to play more regularly than a normal backup, giving Kipnis a break too, something he needed down the stretch last year.
Third Base: Lonnie Chisenhall, Mike Aviles, Cord Phelps, Nate Spears
Chisenhall went from having to deal with a guy like
Jack Hannahan
to now just having a guy who's backing up everyone. The hope is though that Chisenhall can stay healthy, because you don't want to test the depth of this position.
Shortstop: Asdrubal Cabrera, Mike Aviles, Juan Diaz, Cord Phelps
There he is again! Mike Aviles. Perhaps the main reason that the Indians got Aviles and then signed him to an extension, not only is Aviles the guy who's going to spell Cabrera more often and get him some DH time, he's the guy who could even take over if Cabrera is dealt.
Left Field: Michael Brantley, Tim Fedroff, Ezequiel Carrera, Matt LaPorta
Michael Brantley will slide over where he's accustomed to, manning left field. This is very much the "flex spot" in that if something happens elsewhere, Brantley moves over and someone like Fedroff or Carrera get a shot. I think Carrera though is more suited for a reserve/center field spot, and if there needs to be a "full time left fielder" that Fedroff fills that spot much better.
Center Field: Michael Bourn, Michael Brantley, Drew Stubbs, Ezequiel Carrera
Again, Bourn is the man in center and if something where to happen there, Brantley is the guy that takes over.
Right Field: Nick Swisher, Drew Stubbs, Tim Fedroff, Ezequiel Carrera
I think they'll focus Stubbs in right against left-handed pitching, with Swisher getting those starts when he gets a day off, giving someone else a shot in the DH spot as Reynolds would slide into the first base spot. Mixing and matching. Most of the time, I think it is Swisher.
MLB.com
On-Call Pitchers
Starting Rotation
1. Trevor Bauer
2.
Daisuke Matsuzaka
3.
Corey Kluber
4.
Scott Kazmir
5.
T.J. House
Make no mistake about it, Trevor Bauer, if he doesn't make the squad, gets the first shot. The Indians will not wait to get him in there if he deserves it, and cannot wait if there is an opening.
Bullpen
1.
Cody Allen
2.
Scott Barnes
3.
Matt Capps
4. CC Lee
Cody Allen will finish the year in the bullpen, just not sure he starts there. It's more of a numbers game than it is him and I wouldn't want to overwork him early on in the season when you may need a lot of arms. You also can figure that he'd be one of the last guys in, so he'd be pitching a lot in that "we need innings" situation, something you don't want to do to a young guy. Same for Barnes. CC Lee is in the same position he was last year and only because he underwent elbow surgery. Hopefully he gets back to a good position and can make it to the majors this year.
Projected Lineups
VS RHP
CF – Michael Bourn, L
LF – Michael Brantley, L
SS – Asdrubal Cabrera, S
C – Carlos Santana, S
RF – Nick Swisher, S
2B – Jason Kipnis, L
1B – Mark Reynolds, R
3B – Lonnie Chisenhall, L
DH – Yan Gomes, L
I might as well throw darts. I have no clue what this lineup is going to look like. I don't know
Terry Francona
as well as
Manny Acta
, and the new faces dramatically impacts how this lineup could look like. Francona even said he had been playing around in the offseason and could go in several different directions. Now with Bourn in the mix, who really knows what it looks like. I do think he's the leadoff guy, which means several people shift down and Jason Kipnis is probably the guy who moves the most. If anything, it will take pressure off him and enable him to hit lower in the lineup and be protected by some more heavy hitters. The guy who loses the most? Maybe Drew Stubbs, who will probably not play whole heck of a lot against right handers.
VS LHP
CF – Michael Bourn, L
LF – Michael Brantley, L
SS – Asdrubal Cabrera, S
C – Carlos Santana, S
1B – Nick Swisher, S
2B – Jason Kipnis, L
DH – Mark Reynolds, R
3B – Lonnie Chisenhall, L
RF – Drew Stubbs, R
It stays the same, where as without Bourn it might have been a little bit more flexible to play matchups with the open DH spot.
Quick Hits
• Trade Candidates: Chris Perez, Brett Myers, Justin Masterson, Asdrubal Cabrera. Yeah yeah, I hate this little bullet, but I have to put it there. If things go south, there's definitely some names that the Indians can move.
• Official Report Day: February 13th is when everyone is supposed to report by. By the 15th, workouts commence with everyone.
• First Spring Training Game: February 22nd, Against the Reds (Home Game). The Indians also play the next day and on March 17th at Goodyear as the visiting team.
• With the sale of SportstimeOhio, there is still some unknown as to what's going on with the broadcasting, but it appears they're in line to do things this year. Right now they have announced six games that they're broadcasting: 3/17 - Reds, 3/18 - Brewers, 3/21 - Diamondbacks, 3/22 - Diamondbacks, 3/24 - Cubs, 3/26 - Athletics.
• A lot of games will be on the radio though, so I suggest investing in the MLB AtBat app to get the audio for most games (even if it isn't Hammy.). It's a great investment.
• Cleveland has split quad games on the 24th as they travel to Milwaukee and play at home against Cincinnati, on March 6th with the Dodgers, the 8th with the Royals, and the 16th with the Giants.
• Cleveland's last game in Goodyear is on March 30th and will be against the Reds with the Indians as the home team. There is no telling if the Indians will play an exhibition game with the MLB schedule going back to starting earlier in the week, it doesn't look like it.
•
World Baseball Classic:
The reason things are so early this year? The World Baseball Classic is up! That means a bunch of players are leaving Major League and Minor League camps. The Indians will have several participants. Pool play starts at the beginning of March and lasts til the 10th. The tournament's second round lasts through the 16th with the Championship series from the 17th through the 19th. So some players could be out as many as two weeks, some may only be gone for a little bit.
• Yan Gomes was on the Brazil team and was a big reason for them qualifying. He was not on the preliminary roster for their WBC team however. Gomes declined to be on the team and while he could still play, he said he'd like to focus on winning a roster spot with the Tribe.
• Vinnie Pestano and Chris Perez will be in Team USA's bullpen, a real minor inconvenience for the Indians as they are bullpen arms and would likely get the same work in as they would in camp. More importantly, Carlos Santana and Asdrubal Cabrera will be playing for the Dominican Republic and Venezuela respectively. Both are going to be integral parts of their squad.
• Mike Aviles will be on Puerto Rico's squad and be joined by camp invitee and minor leaguer Gio Soto.
• Don't forget:
T.J. McFarland
and
Hector Rondon
are with other teams. Rondon is with the Cubs as their Rule V pick and McFarland is with the Orioles. If both don't make the 25-man roster, they can be offered back to the club. McFarland could play into the rotation depth and Rondon could play into the bullpen if he proves he is really healthy, which he has been doing in the Winter Leagues. Rondon stands a good chance to make that Cubs roster though.
Final Outlook
Phewwwwww! If you aren't ready after that, I don't know if you'll ever be. If you had to read it in parts, or if you skimmed stuff, that's cool. But I do it every year and every base is covered. Take in mind that this is not a season preview but rather a spring preview. These are very much the story lines that will be in play and the things that may come into play at some point.
I have nothing left to add, and hopefully the Indians don't add anyone else to make parts of this obsolete or completely and absolutely wrong. At least for a few days.