Sunday Grazing: Dreaded Masty, Rally Pies, and Climbing Vinnie
I don't have a weird intro for you this morning. All I can say is, what up? It's August. Things are getting more serious. So maybe there aren't as many Sunday Grazing-type stories or links to share.
But I'll do my best to find all of the ones possible.
Sunday Grazing, a little bit of an outside the diamond look at the Cleveland Indians.
[TOMAHAWK TALK: GIVE IT AWAY, GIVE IT AWAY NOW]
THIS is why blogging is awesome and the fan media is so powerful and great to have. It shouldn't replace the actual media, but it deserves to have a part in the game and should be respected when instances of it come up like
the one from Ryan Isley on More That A Fan
.
Isley wrote a post earlier in the week about how it seemed like a bad idea to give away promotional items to just the 10,000 fans in attendance of games, and how this was causing some log jams due to the gates that they had open at Progressive Field. It was a well-crafted and reasoned argument.
He ended it by implying the Indians don't really care about making the stadium experience "efficient" or "fan-friendly".
Before we go any further, I'd have to disagree with Ryan on that regard. Despite his reasoned argument, the Indians seem to have always been A+ in their treatment of fans. And if I could say anything, it would be that they've had trouble drawing more than 10,000 fans on some nights, so why not create a little bit of competition for those giveaways?
Perhaps it would be smarter to lessen the number of some of the less-popular giveaways and increase the number of say, your Omar Vizquel bobblehead, but the Indians made a sound business decision in making the switch. More giveaways, even though there may be less in quantity.
Maybe if they drew more on a regular basis, they could afford to give away 20,000 of one item and keep the number of giveaway's they have.
Anyway, that's not the point. The point is that the Indians made a real effort to reach out to Ryan and answer his concerns.
And that is why the Indians are a classy organization. They're also willing to adjust their approach when they see something went bad. It's like the issue with the game that ended in the wee-hours of the morning and endured many rain delays. The Indians remedied that by giving free tickets away to another dollar dog game of their choosing.
A lot of those fans were there Monday and witnessed one hell of a win, got some dollar dogs, and took part in the giveaway.
This organization knows how to do it.
That being said. I'd like more bobbleheads. But if I really wanted that Omar one, like really bad,
I could find a way to get it
. An expensive way, but I could get it.
[PHOTO OF THE WEEK]
Two photos that couldn't be better and couldn't be better than one another to have this spot to themselves.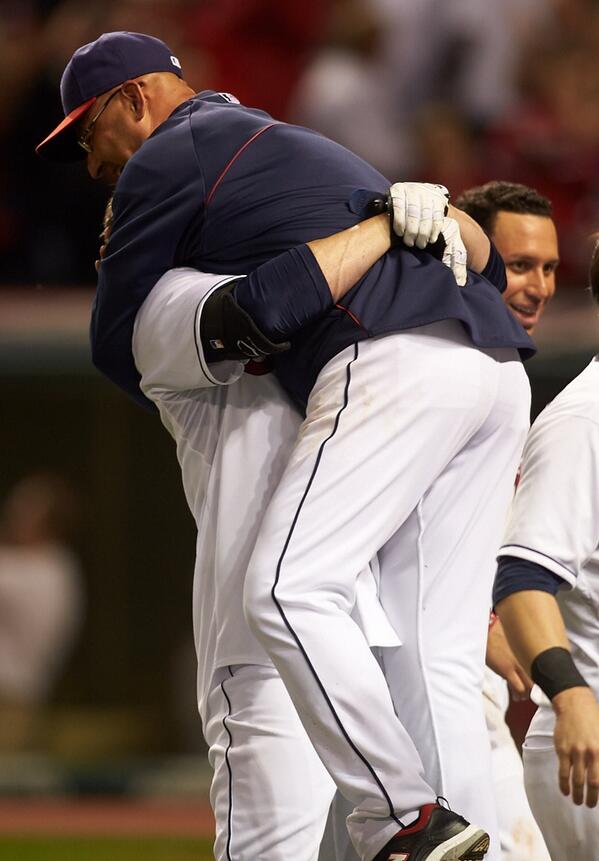 Photo - Cleveland Indians via Indians.com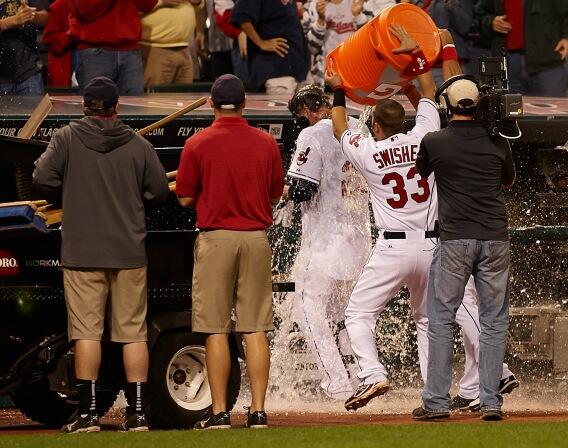 Photo - Cleveland Indians via Indians.com
From bear-hugging your manager to getting a Gatorade shower from Swish and Aviles. This team sure knows how to celebrate.
Speaking of photos, since we really like them here, I thought I'd share with you a site that was e-mailed to me. They have cool artistic photos of baseball and basketball players. The site is called RareInk and the
Indians page is located here
. They also have original art, with a cool drawing of Progressive Field as the one piece in the Indians section of the site.
[SUNDAY FUNNIES]
This is incredibly old, but with no Sunday Grazing last week, I never had a chance to share. I credited the Columbus Clippers with one of the best Harlem Shakes ever done back earlier in the year when that craze was all over the place. They're a fun bunch. There's this Mascot Mania thing going on right now, don't even ask me what it is or what it's about, because I don't really care.
What I do care about though is a good Arrested Development reference.
Which is exactly what they did
in promoting the voting for their mascot, LouSeal. Even though it was the loose seal that bit off his hand.
Before he got demoted to Columbus, Vinnie Pestano was perched and ready for that walk-off home run on Monday.
Look at this man @VinnieP52 hahaha @Indians @MLBastian pic.twitter.com/ojWhg3THDV
— Thomas (@tdunham_7) July 30, 2013
The picture quality isn't the best because it is a screenshot from television, but it is technically in my mind, a better photo than any of the Giambi ones. Just sayin'.
I think you can't really consider the Indians as being on the road right now. They have more fans than the Marlins do. Florida is a place of retirement, and Winter Haven was the second home of the Tribe. The amount of people that retire from Ohio to Florida is quite large, so it makes sense that there are so many down there.
On Saturday it seemed like every foul ball was caught by a Tribe fan. It might seem that way because they probably had more Indians fans than Marlins fans at that game. If you think I'm saying it to be cute, I dare you to go count, I bet it's close.
[MEDIA RANTS]
Last time I had a big long rant about FoxSports and Matt Underwood. With that in mind and what I'm about to do, I'm renaming this whole section to Media Rants, because that's all I seem to do.
How much of a jerk is Hawk Harrelson? I've shared my disdain for the man before, but he took his jerkiness to new heights on Monday when the Indians hit a walk-off home run against his team.
See for yourself
.
Don't get me wrong, I love not hearing him, him being silent is fantastic. But all he does is just sit there without saying anything? And then come back and act like your dog died? I now, it's depressing, but stop it.
Is Tom Hamilton a homer? You betcha. But Hammy is on the radio. He's supposed to be a homer. That isn't to say Harrelson shouldn't be a homer, but the way he goes about it.
That's all I'm going to leave it at.
While we are also on the subject, does anyone else like to listen to the part of the Indians postgame show where you get to hear the reporters talk to players and Tito? I do, and sometimes I just want to slap myself. Verbatim of what Sheldon Ocker asked Ubaldo Jimenez on Friday night: "Did you watch Fernandez during the game?"
No Shelly, he didn't. He did not watch the game he was pitching in. He started down at his feet the whole time. Or he just watched the stupid monument in center field. And just in case you think I wouldn't tell him directly,
I sent several tweets his way
. Of course he doesn't really even use Twitter I don't think. He just has links to his crappy stories that he writes.
Someone has to hold these people accountable for what they are doing. Thankfully there are other good beat writers who cover this team, so it isn't an issue, but sometimes I worry if we are getting all the news we should be getting.

[GREAT MOMENTS IN TRIBE HISTORY]
Remember in 2007...wait of course you remember anything from 2007. But do you remember when there were so many walk-offs that someone getting pied in the face (usually by Trot Nixon) became a regular tradition. I guess it's fitting that Swish wears 33 now.
Anyway, it was so "fun" that the Indians ran with it and dubbed it the "rally pie" and had all these fun graphics and things to go along with it.
Including this video
. There was also this weird platform they raised Slider up with a tarp sign around it. I
took a picture of it
back when I was at the second game of the ALDS against the Yankees.
I don't really know what the point of all of it was. But it was a good moment in history because the Indians were in the playoffs.
[DR. WEIRD'S LABORATORY]
Justin Masterson
shaved a boy's head for charity
. He noted in this story that he wanted dreadlocks at one time, that or the clean shaven look. Obviously he is the way he is now because it looks better, but for curiosity sake, I found this rare picture of him with dreadlocks.
Maybe he just didn't want to chance
getting sunflower seeds stuck in his hair
when people threw them at him.
Go place your bets right now. Heck, if I had 20 bucks I'd throw it
on those 28/1 odds on the Indians winning the World Series
. That's some good goods for baseball where anything can happen. I could make an easy 500 on that righ tnow.
[LOLTRIBE]