Kluber, Brantley, Turning into More than Tribe All-Stars
Forget the All-Star Game coming up in a matter of over a month. The Indians have two players worthy of that designation of All-Star, and much more with the way they've been playing this season.
I'm saving and sparing you the long winded intro because you should know exactly who I'm talking about, not just because it is in the title, but because it just makes too much sense from the get-go. We've now entered the territory in the season when things are real. If a team is in contention, they've probably got staying power. If a guy is still playing well, he's probably going to have a good season.
Memorial Day is usually that point in the season when things are pretty set into motion. There's really no coming back if you aren't in contention, which is why this run the Indians have been on has been so crucial. They needed to get to this point where they don't look as if they are dead fish flopping around on the dock, looking to flop back into the water before they dry out. They've reached that point, and it couldn't have happened without the two individuals this entire thing is about.
Photo - Chuck Crow via Cle Plain Dealer
Michael Brantley
and
Corey Kluber
are bonafied All-Stars, as well as establishing themselves as building blocks for this organization. Brantley already got his contract that states just that, Kluber may be next, showing just why the Indians seemed to be okay playing the waiting game with
Justin Masterson
. That decision has been well-backed up by the up-and-down start to the year Big Masty has had.
It has been Kluber that has been pitching like the Ace of the Indians rotation thus far. Ranking sixth in the entire game in innings pitched, Kluber has been the workhorse of the staff and the team. He's routinely been the one the Indians can count on to attempt to end a rough streak for starters and give that bullpen a rest. Good pitchers do just that. What makes this even better is that Kluber has done that and more. He truly has been a great pitcher, the stuff and performance that makes a starter a true Ace. That isn't to say he is one after just two months of a 2014 season, but he's fast becoming the man for the Indians.
He's managed to give the Indians a chance to win just about every time out, other than his first start of the season, a clunker in Oakland in which he lasted just into the fourth inning and gave up five earned runs. Nine of his 11 starts this season have been quality starts and in the month of May, he's struck out at least eight hitters a game. His May has been fantastic and really has established himself after a slow start.
Beyond numbers, he just looks like he's taken that step to what you'd expect a front of the rotation starter to look like. Last year, he looked brliiant at times, and just a serviceable good pitcher every other time. You could tell after he shook off opening season kinks, that this guy is starting to get it. He's starting to become a dominant pitcher and he's showing it these past few weeks. It goes beyond numbers and into the situations he is in. This team needed stability in its pitching staff, with all the bullpen shuffling, extra inning games, early exits from other starters, demotions, injuries, what have you... With a team spiraling that would have eventually led them into the pool of non-contenders, Kluber has stepped up and put the staff on his back.
He's coming through for the club when they need him. He's coming into his own at the same time. We are seeing a pitcher mature into what he was outlined to do right before our very eyes.
The Indians got Kluber in the
Jake Westbrook
deal years ago. They knew they were getting a legitimate prospect, but I don't think they thought they were getting a potential front-line starter. And really, up until last year, I don't think anyone thought Kluber would even be more than a four or five in a decent rotation. He very much was on the outside looking in after spring, just waiting for an opportunity.
And what's redeeming of it all, is that when the Indians acquired Kluber, he was leading his minor league level in strikeouts. What is he doing now? He's one off
David Price
's pace of the Major League lead in strikeouts. The strikeout had been a little bit of a missing link for Kluber the past few years after he came over in the trade from the Padres. The Kluber of the previous few years had been focusing in on other ways to get hitters out, seemingly working on being more of a pitcher than a strikeout artist.
Now, he's bringing it all together, which is exactly what we are seeing right now. Kluber is taking what he learned in the past few years of being a pitcher and being more than serviceable at the Major League level, and combining it with something he could always do and made him a huge success in the minor leagues. He is bringing it all together. We are seeing the best Major League version of Corey Kluber right now.
Will his insane May numbers keep up? Probably not to this level. He won't strike out eight hitters and go seven innings in every game the rest of the way through. But expect this level of consistency to continue throughout the year. You have a bonafied strikethrower. An aggressive starter who will strike you out if you continue to miss his pitchers, but is very willing to let you put the bat to the ball and get yourself our. Its why he gives up as many hits as he does, but gets himself out of innings with no damage because he's giving his best stuff and minimizing the opportunity for the opposing hitter.
He doesn't walk people. He just doesn't. He walked 33 all of last year. And while he's up to 17 this season, just over 2 walks per nine innings isn't bad and it will likely get better as he puts those two bad games behind him even further.
The Kluber is definitely Abiding. This is the Indians front of the rotation pitcher. His name is Corey Kluber. He is going to be going to the MLB All-Star game this summer and may be the guy to head-up their rotation for the next few years. Time to get used to it.
On the other side, we've got a budding superstar. While Kluber doesn't exactly have a longer track record, and seems to just be coming into his own, Michael Brantley is establishing himself. He's already proved he can play and has shown he's a critical piece to this Indians lineup. Now, with the absence of
Jason Kipnis
and the struggles of
Carlos Santana
, he's showing he is the heart of the Indians lineup.
The up-tick in his power is certainly nice, but Brantley is doing much more than that. He's building upon the reputation he has established as being the go-to-guy when the team needs a clutch hit. He's not just doing it in clutch situations, he's doing it in all situations. He is seventh in the Major Leagues in RBI, just one of the stats he leads the team in. Okay, everything. He leads the team in like, everything. RBI, HR, steals, runs, everything important.
Last year, he was a good, solid piece that this team needed. This year, Brantley is quickly showing that he is the piece the team can't live without. He's the guy that probably should be hitting in the three hole, even when Kipnis comes back. His value there supersedes the versatility he brings in being able to hit anywhere in the lineup. He doesn't go cold, as consistent as consistent gets in a game that can put you in an absolute rut and keep you there. And when he's hot, he carries a lineup.
Can you believe we've seen this guy blossom into what he is doing right now? The "additional piece" in the
CC Sabathia
trade, Brantley has gone from being a bit of a question mark to being the superstar of this team. He's proving the contract the Indians gave him this offseason and if he and Kipnis are the lynchpins of this team for years to come, they're going to be in good shape.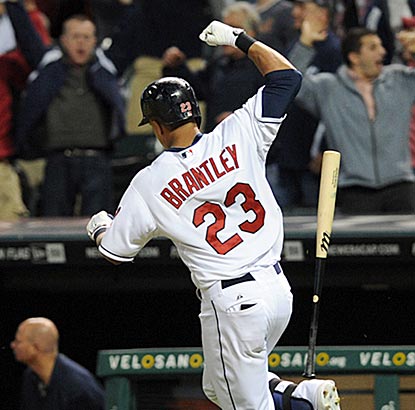 Photo - USATSI via CBSSports.com
Again, put the All-Star game down right now. Brantley goes beyond that the way he's playing. Yeah, he's caught a little fire here lately and that's great. But this is more than that. We've seen him play to a level close to this for some time now. We've seen him be the clutch guy in the lineup that came up with all the hits when needed.
He's going to crush his career highs in all these significant numbers and he should do it from the middle of the lineup. He's hitting at a better rate than normal, getting on base at a higher rate, and slugging at a higher rate.
You can just feel that all of that is turning into a little bit more with him. He is the piece to this team that they cannot live without and he very well may be a MLB superstar.
The Indians were criticized heavily for not getting a deal done with starter Justin Masterson over the offseason. But what they did get done were deals for Jason Kipnis and Brantley. Two guys who will be under team control for three more years after this, Kipnis for a few extra after that. Kluber is actually under team control under his current service time clock to be under team control until 2019, giving the Indians four more years after this with him.
Enjoy what you are watching, even though we get to watch it for more years after this. Watch specifically what is happening with these two individuals. They are blossoming into much more than just key members of this team. They are turning into household names around baseball.